Tarot Hamsters

I've always admired hamsters, owning and successfully showing a number at CHA shows over the years. In the Spring of 2003 I was offered the opportunity to aquire a few hamsters imported from Sweden which had very nice type and features which complimented and offered opportunities to improve on the animals  found in this area of the country. They also also included a color I fell in love with many years ago and a coat type which I greatly admired from photographs from other countries. This opportunity proved too much to resist.

Goals

My goal was to breed Syrian hamsters to BHA Standards with an emphasis on excellent health and temperament as well as correct type and color. My primary focus was on developing a quality Dark Gray and Dark Gray combo color line in Short, Long, and Rex coats. My secondary focus was on producing a line of show quality Goldens to compliment my Dark Gray line.

Tarot Hamsters

Quality Syrian hamsters for pet and show

As a long time rat and mouse fancier, I have always concentrated on breeding small number of one or two varieties with the goal of producing the very best in  temperament, health, type, and color. Focusing on doing one or two things and doing them well have always been my priority. I am no longer breeding hamsters, however I am leaving my website live so that the info on Dark Gray remains available.

This page was last updated on: July 1, 2014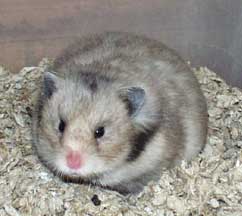 Roborovski Dwarves

While my primary focus was on Syrian hamsters, I also had several colonies of Roborovski Dwarves. Robs are my favorite dwarf species, and I greatly enjoyed watching their facinating behavior.